A VERY HAPPY NEW YEAR TO YOU ALL.
GOOD HEALTH IN 2022.
I VERY MUCH HOPE THAT IN 2022, WE CAN RESUME NORMALITY AND THAT WE CAN ALL MEET AT SHOWS AND N B S., MEETINGS.
KEEP SAFE, KEEP SMILING.
THE Best Begonia growing website in the UK
Welcome to the updated National Begonia Society website. In common with most societies we are introducing a

members registration and password 'login' to protect the society and its membership.
If you are not a member enjoy your visit have a good day.
A PERFECT GIFT.
NEW MEMBER OFFER.
SPECIAL U. K. NEW MEMBER OFFER.
JOIN THE THE NATIONAL BEGONIA SOCIETY., IN DECEMBER  2021, JANUARY or FEBRUARY, 2022, & RECEIVE A FREE TUBER
Please note tubers will be named doubles..
PLUS., THE N B S., HANDBOOK (WORTH £8:50).
AS WELL AS THREE BULLETINS YEARLY.
ALL THIS FOR ONLY £20., MEMBERSHIP.
JOIN NOW AND YOUR HANDBOOK WILL BE POSTED TO YOU BEFORE THE NEW YEAR.
MEMBERSHIP FORMS CAN BE COMPLETED ON LINE, OR PRINTED AND SENT BY POST.
DETAILS AT THE TOP OF THIS PAGE.
GO ON, SPOIL YOURSELF.
Handbook & Bulletins
All New members will receive a copy of the National Begonia Society Handbook, together with
3 Bulletins during 2022
A gift perhaps
Are you or your partner interested in growing begonias?
Why not treat yourself/ your partner, or a friend, Membership of the National Begonia Society.
Membership includes, a N B S., Handbook (* worth £8:50), plus three Bulletins a year and full access to the N B S., Web and Facebook pages.
All this, for just £20. plus free Begonia Tuber
Simple to do.
Complete The N B S., Membership form on line or print out and post to our Membership Co-ordinator. Details at the top of this page.
It's as easy as that.
The National Begonia Society is pleased to announce that a steady number of New Members' continue to join The N B S., including those from The U S A.
A very warm welcome to you all.
Can I please ask, those whom have paid by Direct Debit or Bank transfer, that they need to ensure that they have supplied their full contact details to Terry Tasker, N B S., Membership Co-ordinator, via a completed Membership form as we have several new Members' who have paid their Membership, into the N B S., account, however, we only have their names, but no addresses to send their Bulletins or Handbooks.
Many thanks.
New December
All pictures can be viewed by members only
AGM 2022
" The NBS AGM which was to be held on Saturday February 12th 2022 at Manningford Community Centre has been cancelled due to the coronavirus pandemic, and the uncertainty of government restrictions placed on such activities. The existing officials and committee will continue to run the day to day operations of the NBS as normal. "
Tuber Care
The importance of checking tubers thoroughly for the dreaded Vine Weevil.
Now that most V/W., insecticides have been taken off the market for the Armature grower , the incidences of V/W., damage/ infestation will undoubtedly be a bigger problem for many.
The series of photos shown, beginning with photo1, shows no sign of V/W., grubs present.
Full article can be viewed by Members of the NBS joining instruction's can be found at top of this page.
November
Still flowering their hearts out.
Just returned from holiday – last week in October.
What a lovely surprise seeing my outside pots, still glowing with colour in the pouring rain.
That's the beauty of begonias, when most other flowers, have finished flowering, begonias, still give their all, despite the recent torrential, rain fall and extreme gales.
Soon though, on a sunny day, begonias will be lifted, placed in boxes to dry inside glasshouse, until stems fall away, brushed clean with a soft brush, checked, before storing in a frost free place to overwinter, ready for next spring, when they will started again.
Flamboyant today
Flamboyant.
One of the best Multifloras, ever, to grace the borders, pots or indeed baskets, of U K., gardens.
Colin Nicklin's garden, photo taken on 23rd., October.
What a spectacle of radiant ' flamboyant' red, to catch the attention of passers by.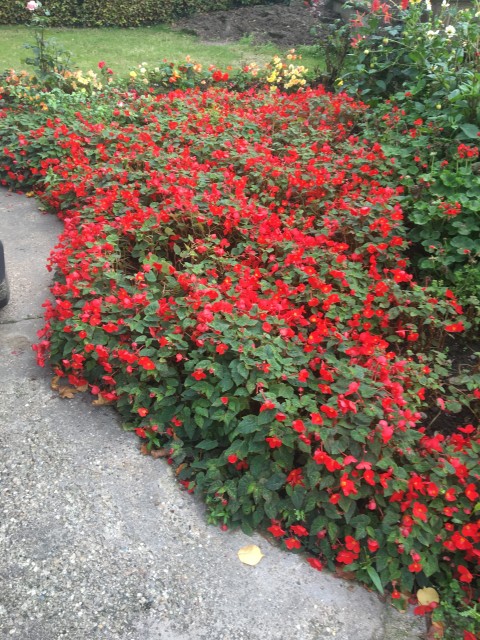 September
Still Looking Good
The pots and baskets are still looking pretty good at the very end of September, even though we've recently had heavy downpours.
The Multifloras have flowered their hearts out, all Summer long in the large pots, however, very soon will be lifted carefully – sooner rather than later , on a fine day and placed in large trays and kept in the car port to die back, allowing their stems to detatch from tubers slowly, cleared away and composted. The tubers, will be left to harden, checked carefully and placed in meshed mushroom containers, with news paper on the bottom and sides.
Once October arrives, when temperatures begin to plummet ( this morning fell to 4′ C), all pots including borders, containing begonias will have been lifted and stored as above, in a frost free place, to dry, prior to storing to overwinter.
Baskets and those pots that can be lifted, will be taken inside.
The main article can be seen in The National Begonia Society Autumn Bulletin .
Around the shows 2021
September
Full article can be viewed by members only.
A selection of prize winning displays
SHORT PREVIEW OF THE MEMBERS HANDBOOK
---
If you have enjoyed your visit to our WEBSITE why not join and see the full site .
For ONLY £20 a year you will be able to view this Website in full to find full joining information click

HERE